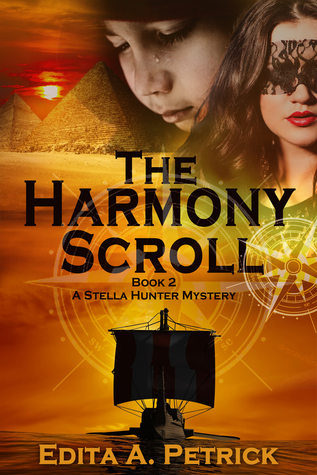 The Harmony Scroll by Edita A. Petrick is the second book in the Stella Hunter series. This review will make my last of 2016.
The Harmony Scroll is written from the perspective of Timothy J. Carter, a contractor working for the US Government with contacts in the FBI. The novel begins with Carter recovering in hospital from injuries sustained at the end of the previous book. He is informed Dr. Stella Hunter's house in Montana has been destroyed by "fire". Two bodies found inside are identified as Dr Hunter and her adopted son Gabriel. Carter quickly leaves for Montana and investigates the incident for himself, concluding that Stella and Gabe are still alive thanks to information provided by one of Gabe's friends. After he saves Stella and Gabriel, they continue their search for the Harmony Scroll, a thousands year old document written in gold which contains an incantation to free Gabe from the Peacetaker curse. Through Italy and France, they are followed by Tanis DeVry and her associates who also want the scroll. After an encounter with a former KGB Operative, Carter, Stella, and Gabe have enough information to track the scroll to an English castle.
I received a copy of The Harmony Scroll from the author in exchange for an honest review. I haven't yet read the Ribbons of Death, the first book in the Stella Hunter series — but I will. The beginning of The Harmony Scroll was information overload. I did have a little trouble placing some of the many characters and events mentioned. I believe having read the first book would have helped with that, but it's not essential to be able to enjoy The Harmony Scroll. Once I knew who the main characters were, and their goals, I easily slipped into the rhythm of the book.
The mix of history, paranormal, mystery and suspense that Edita has woven into her story is wonderful. There is a tremendous amount of historical information provided throughout the novel which gives it an authentic feel. The interplay between Carter and Stella is wonderful and their dialogue is natural. Gabe felt like your average eight year old boy. I liked the way Carter took care of him and it brought up his own failings as a parent to the forefront. I also liked the little twist of the scary KGB Agent being far less scary than you expect him to be. However, the characterisation was one part of the story I felt a little underplayed, mainly the lack of emotion. Otherwise, the suspense provided by the people tailing Carter, Stella, and Gabe worked well. The level of violence was kept to a minimum and helped it feel more realistic. The ending suited the story perfectly. The Harmony Scroll was a fun read, quick read, one I recommend.
4 Stars.