My blog has had issues over the past week. It appears to be working again now. Let's hope it stays that way.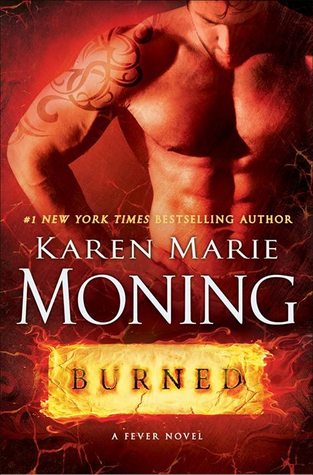 My book review today is for the Karen Marie Moning Fever novel, Burned.
In a war ravaged Dublin where the Fae and humans battle for control, tempers flare, passions run red-hot, and dangerous lines are crossed.
MacKayla Lane (Mac) is a gifted sidhe-seer. She's already fought and defeated the deadly Sinsar Dubh—an ancient book of terrible evil—yet its hold on her has never been stronger. Her former best friend Dani, an immature fourteen year old, vanishes into magical mirrors called the Silvers, and returns as a kick-ass nineteen year old woman named Jada, and Mac's most dangerous enemy.

Christian MacKeltar, highlander, druid, and newest of the Unseelie princes, has been captured by the Crimson Hag and is being driven deeper into Unseelie madness with each passing day. Mac, the all-powerful nine, including her soul mate Barrons and Ryodan, the MacKeltar's and Dani/Jada, must rescue Christian before he loses what it is to be human.
WARNING: This review may contain spoilers so if you don't want any info on the previous novels or this one, don't read on.
The Fever series, of which this is a part of, is one of my all time favourite series. The first five books are outstanding. Iced, the book prior to Burned, was okay and I was hoping that with a return to Mac and Barrons that things would improve. I wanted so badly to love this book. But Mac felt like a complete stranger to me. Her inner strength that grew throughout the first six novels was watered down and replaced by self-doubt and guilt.
Dani did become a complete stranger by turning into Jada, complete with psycho personality change. This book has copped a lot of flack for the whole Ryodan/Dani (Jada)/Christian storyline. KMM may have been better off setting this book years into the future, after Dani had grown up, rather than rush into the storyline following the Hoar Frost King's exit in Iced. But she left Christian hanging and therefore had to rescue him. But I'm not KMM, and this is her series.
There were some good moments in this novel that reminded me of the previous ones. When Mac went behind the bar for example. Lor is hilarious and I hope we get to see more of him.
The storyline itself felt like a lead up into something else (which I suppose it is). I will keep reading because I'm already invested, I'm a sucker, and I live in hope that the next one can redeem the series. I obtained my copy of this from the library.
2.5 Stars.